Wedding Cakes, Groom's Cakes, & Wedding Favors
Why should you trust Sweet LaLa's Bakery with your big day? We think our work speaks for itself and our many reviews reinforce what can be seen here on our website. Our experienced cake design team works with bride and grooms from all walks of life. So whether you are searching for a wedding cake to feed 500 or you want groom's cake that represents a favorite pastime, we will help you create a masterpiece for your wedding day.

Wedding Cake Photos
Below is a selection of photographs of our most recent wedding cake designs.
Schedule a tasting
Here are a few tips so you can get the most out of your appointment:
Review our work above and throughout our website and use social media to your advantage and search for examples of other wedding cakes that speak to you!
Bring photos of your venue, bridal gown, flowers, etc. Our decorators can use these as inspiration to create the perfect work of art for your day!
Do you require a Groom's Cake? Wedding favors for your guests? Uniquely curated gift boxes for your new in-laws? We can make it happen!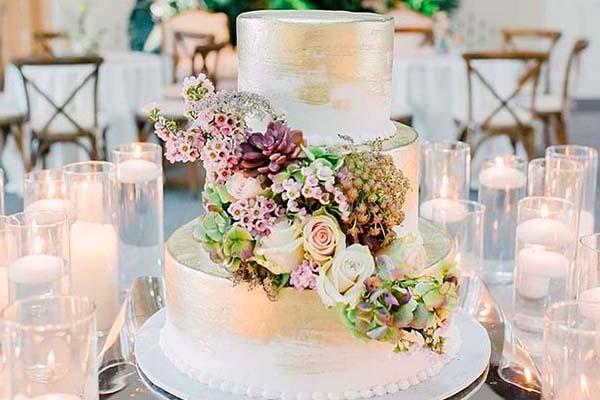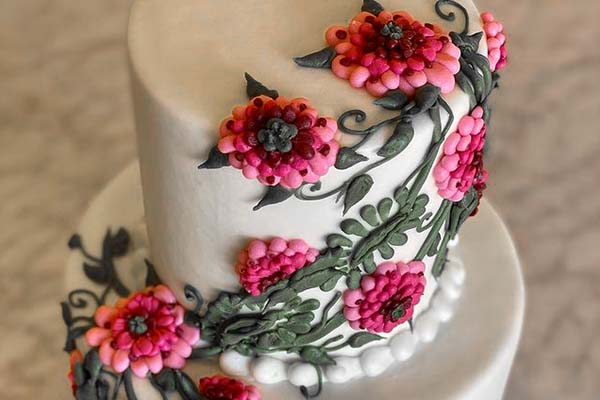 Wedding & Groom's cakes
We make a variety of styles, flavors, and colors of wedding cakes and groom's cakes. We work with brides and grooms to bring their ideas to life to create magnificent centerpiece cakes that not only look amazing, but taste just as fantastic as it looks. We guide you through the cake design process to determine all the details of your cake including, how many you are trying to feed, we look at your inspiration pictures, and discuss flavors, colors, and styles of cake decoration.
Custom Cakes Ordering Guide
Minimum OrdeR
Weeding cakes start at $5/serving and require a 50% nonrefundable deposit at the time of booking
Lead Time
Lead time for wedding cakes is typically 4-6 weeks. This may be longer during holiday seasons.
Options
Our design team will guide you through all the options from look, size, tiers, decoration, fillings, and flavors. See below for additional information.
Pickup & Delivery
Our wedding cakes can be collected from the bakery or delivered to your Memphis area venue.
We have collected together some of the most common questions people ask when ordering a wedding cake.
Do you offer wedding cake tastings?

We offer wedding cake tastings during our store hours. Tastings are $25 and that money will go towards your order, should you choose to go with us.
How much does a wedding cake cost?

Our wedding cakes start at $5/serving.

What wedding cake flavors do you offer?
We offer vanilla, chocolate, strawberry, almond, red velvet, lemon, confetti.

What wedding cake fillings do you offer?
Fillings are an additional $0.25/serving and you can choose from strawberry, raspberry or lemon curd.
How is a wedding cake decorated?
Unless the icing is black on the outside of the cake, the outside of your wedding cake MUST be vanilla buttercream, as it is the only icing that will hold up in hot weather, the car ride to the venue, and it looks best in photographs.

Do you provide delivery & setup of wedding cakes?
Our delivery starts at $150. We will charge $1.75 per mile after a 20 mile radius. We do not place toppers (unless created by us) or flowers on the cake. We typically arrive about 2 hours prior to the wedding ceremony.

Order Your Wedding cake Today
Place your wedding cake order online or call us to speak with a bakery specialist.
Make Life Sweeter!
Speak with Sweet Lala's Bakery today.