Hand Piped Cookies & Custom Branded Cookies
We offer a wide selection of cookies from small orders to very large orders. Cookies are available in-store on an "as available" basis or may be pre-ordered by the dozen. We offer a range of cookie decoration styles, shapes, and flavors. Please check out our hand piped cookies and custom branded cookies below.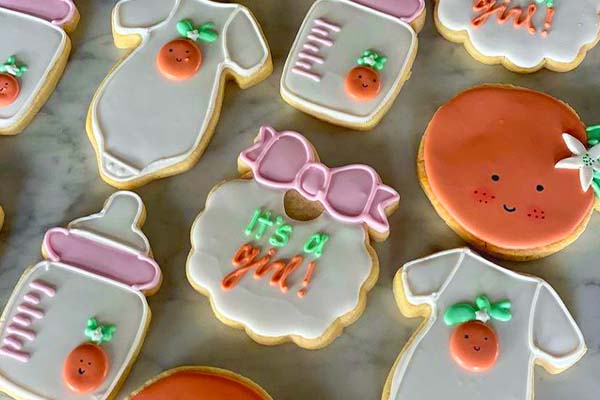 Ready to go cookies are available in-store (subject to availability) or can be created to your specific design requirements.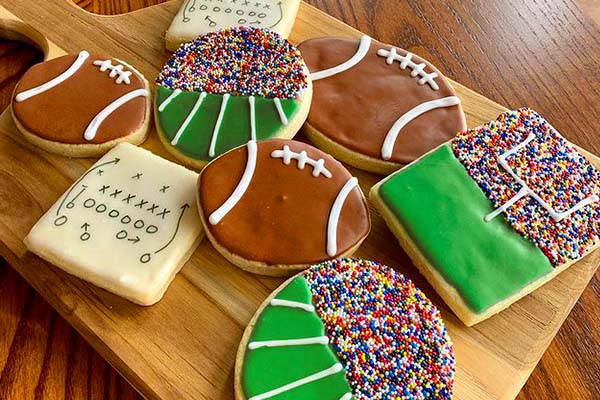 Custom branded cookies are beautifully themed for your corporate event or next party. Decorated to match your theme or brand.
From the case cookies
We bake daily a wide assortment of 3" cookies for you to grab and go to treat yourself or your colleagues and friends. Typically, on hand, we have:.
Original (with a hint of almond),
Triple Chocolate
Chocolate Chip
Lemon
Sugar
Oatmeal Raisin
Seasonal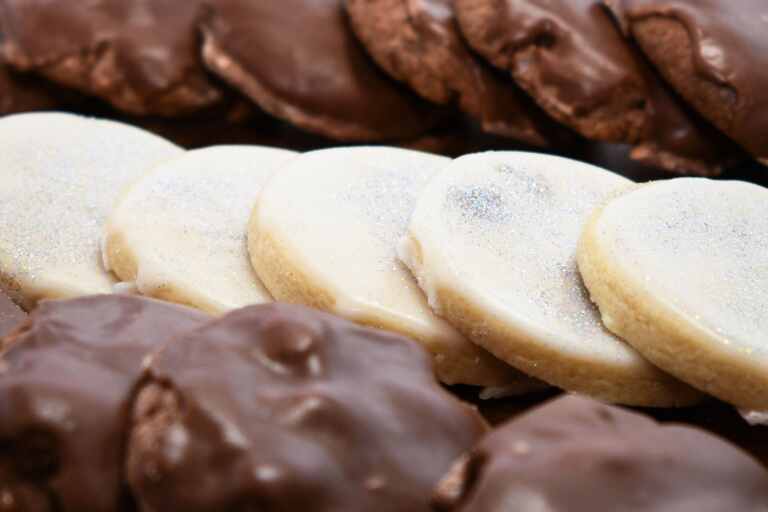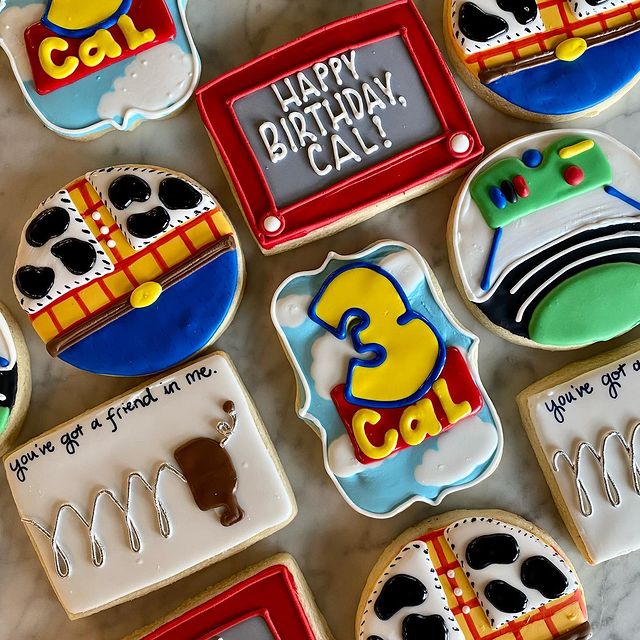 cookies for any occasion
We offer several ways to customize your cookies. We work with hundreds of custom shapes, icing colors, edible glitter and edible paint splatter as well as custom stickers for a quicker turn around. We have the ability to hand pipe details or, with a slightly longer lead time, we can work with your corporate logo. We also specialize in edible artwork that can be applied to our products for you to host a truly unique celebration.

We have collected together some of the most common questions people ask us about cookies.
How far ahead do I need to place my order?
We keep a case full of our standard cookies for you to grab and go. However, if you wanted to have them individually wrapped, we can typically offer this same day. If you wanted a custom sticker created for the package, we can usually turn this around within 24 hours. Lead times for virtually all other custom designs (hand piped designs or logos, edible art) are approximately one week depending on the season. For a truly custom design, we hand pipe details with a couture icing which has a three day process for production.
Do Cookies Need to Be Refrigerated?
To maintain freshness, our cookies are best if sealed at room temperature in cello wrap or ziploc bag however, they can be stored in the freezer for up to 3 months. If using our standard icing, icing may crackle in the refrigerator or freezer but the product will still taste delicious.
What Styles of Cookie Decoration Do You Offer?
We have a wide variety of styles to customize your cookies. We can cut cookies into shapes and ice in colors. We use sprinkles to match themes or can add edible glitter or paint for an elevated look. We can package cookies and print custom stickers for the packaging to showcase a phrase, monogram or corporate logo. We can decorate cookies using a buttercream icing design, but these cookies do not package well due to the soft texture of the icing. Our pricing is based on size of cookie, level of details/colors and packaging needs.
What is your minimum order?
When working to fulfill truly custom designs such as our hand piped cookies or custom stickers, we ask you order a minimum of one dozen and then we can work with the amount of cookies you need for your event. For all other styles of cookies, you may order as you please.
What Cupcake flavors do you offer?
We are best known for our soft Original cookie – with a hint of almond. Other flavors include: Sugar, Lemon, Chocolate Chip, Triple Chocolate, Oatmeal Raisin. We rotate seasonal flavors we have created such as Peanut Butter Cup, Snicka, Tropical and Praline.
Do you deliver?
We do offer delivery in a variety of ways. We have our own drivers in a logo wrapped car but if your order is time sensitive we contract delivery out to Blue Sky Couriers. We are now offering limited menu items on Grubhub and Uber Eats and they will deliver to your doorstep as well. You can inquire about fees at the time of ordering.
Order Cookies Today
Place your cookie order or call us to speak with a bakery specialist.
Make Life Sweeter!
Speak with Sweet Lala's Bakery today.