OUR STORY
Sweet LaLa's Bakery was formed out of a desire to help and support like-minded visionaries within the Memphis area, and to provide assistance to people finding themselves in difficult life circumstances.
Give Back & Make Life Sweeter
Our entire bakery was opened with purpose in mind. In 2014, it was to employee youth at risk and tell a story of change and second chances. When we opened our brick and mortar store in 2019, we began to work with more social enterprises and local entrepreneurs to help tell their stories of growth and community support. We source the products from our social entrepreneurs specifically to create a direct impact on their ability to employ the hard to employ and fund the programs they have created. We bring them along in our pitches for gift baskets and help spread the word about the good work they are doing to help people and grow their bottom line for program dollars. As a result of the community programs they have created, many are attaining independence from drug addiction, trauma, homelessness, and more.
SLB Timeline
August 2001
Opened baking out of the home
Lauren Young, aka "Sweet LaLa" began working with the Original recipe out of her home kitchen and created additional flavors for friends and family as a small home business.

December 2014
Partnered with JIFF
A formal partnership with JIFF (Juvenile Intervention and Faith Based Follow Up) was created to bake with purpose. Sweet LaLa offered paid job opportunities for kids graduating from the reentry program. Over 125 youth came through the kitchen doors in an effort to help tell the story of second chances and change.
March 2019
Opened store in Regalia
Building on Sweet LaLa's passion for baking and for community change, the doors opened to showcase not just the cookies she created, but the work of local and social entrepreneurs who have a deep commitment to delicious food and products of purpose. Sweet LaLa understands when you work together, you rise together.
Built Partnerships
Secured partnerships with over 5 social enterprises who make products with purpose in mind to grow income, job training and awareness for the nonprofit each enterprise represented. Additionally, we forged partnerships with over 10 local entrepreneurs who are growing small businesses because of our philosophy of working together allows us to rise together.
August 2020
Fundraiser Program
We created a fundraiser program to raise awareness and money for local non profits. Those who have participated include STREETS Ministries, M.O.S.T, Woodland Presbyterian Day School, St. George's Independent School, and Baptist Center for Good Grief.
March 2020 - Today
Adapting to the Pandemic
During the pandemic we retained all of our employees who wanted to remain working, with the expectation to offer a sense of security for their next year. We adapted our operations to carry-out and expanded our offerings in bulk as well as offering an increased shipping program, to do our part in keeping our employees and customer safe. We continue to build creativity in our offerings so we can stand out as one of the best bakeries in Memphis.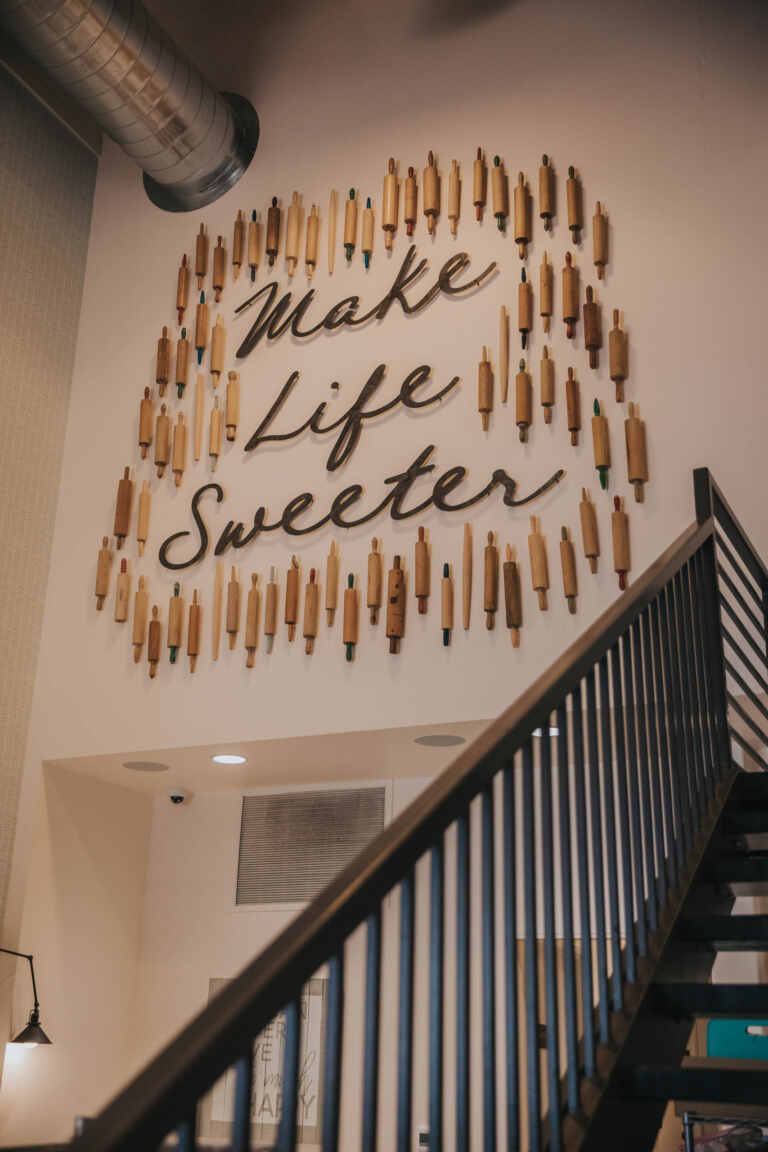 Sweet LaLa's Bakery is a local family owned business created to Make Life Sweeter one treat at a time. After working for 4 years to advance employment for youth caught in the juvenile justice system and baking thousands of delicious hand crafted cookies, the bakery expanded its mission from Make Change. Eat More Cookies to Make Life Sweeter. The expansion included a curated line of custom baked products such as cakes, cupcakes and pastries. New partnerships were forged with social enterprises and local entrepreneurs across the Mid South to offer the best in local sweets. The mission of Sweet LaLa's Bakery is to see people thrive in employment and in life so we bake with purpose in mind and select partners who value working together to make our community strong.

In 2014, Sweet LaLa's Bakery formed an official partnership with JIFF to contract for employment. JIFF is the leading provider of proven results for re-entry services for kids who were involved with the Shelby County Juvenile Court system with more than three offenses. For over 4 years in the partnership with JIFF, we baked with purpose to offer second chances and first time job training and employment to over 125 kids. In 2019, Sweet LaLa's Bakery expanded the brand and trademarked Make Life Sweeter. New partnerships with over one dozen local entrepreneurs and social enterprises were established to share in the growth of small businesses across Memphis and the South. We believe food brings people together and good food nourishes the conversations that make change happen in communities. Sweet LaLa's Bakery believes when we all work together, we rise together.
Make Life Sweeter!
Speak with Sweet Lala's Bakery today.